Riedel Glass Tasting 2nd Session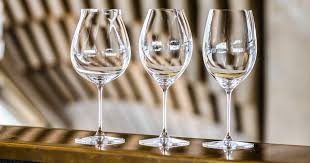 So, how much does the wine glass really matter? Join us on Sunday, August 2nd as we experiment with using different styles of wine glasses during an interactive tasting. We will taste our Reserve Chardonnay, Sauvignon Blanc and Meritage in Riedel professional glassware vs a standard tasting glass. Every ticket holder gets to keep the set of Riedel glassware and seating is VERY limited due to spacing restriction.
This tasting will showcase how the characteristics of a wine can be changed by merely using a differently shaped glass. We will guide you through the tasting, demonstrating why glassware matters and how it can enhance your wine experience.
Attendees are invited to stay after closing to enjoy some wine with us!
When: Sunday, August 2nd at 1PM
Where: Covered Pavilion / Crush Pad
Social Distancing: As always we will be adhering to social distancing guidelines and have a stringent cleaning protocol. All attendees will be spaced 6' apart unless you contact us to let us know you plan to sit as a group of more than 4. Wines will also be pre-poured to avoid any bottle contamination with someone's else's glass.
Details: Reservations are $45 per person and include the Riedel professional glassware used during the tasting so you can recreate it at home! Relax after closing with some wine on the patio or hillside.